Why it's important to locate and document your system's serial number?


Ultimately, it comes down to time. Or, more specifically, your uptime/downtime.
If you are ever in need of parts or support – whether for a current service need, preventative maintenance or managing an inventory of replacement parts – you know how critical it is for your operations to maintain maximum uptime. By providing the serial number for your Panther Industries labeling automation system at the onset of your inquiry with us, we can immediately identify the exact system you are referencing and provide you with a solution or recommended parts quickly.
That is why one of the first questions we will ask you after you contact us by telephone or email is: "what is your system's serial number?"

Select your Panther Labeling System to Help You Locate Your System's Serial Number:
For specific product questions or service issues, please contact:
How to Find Your Serial Number
From the HOME screen, press the [ABOUT] button on the HMI interface:



Reference the system serial number as pointed out below: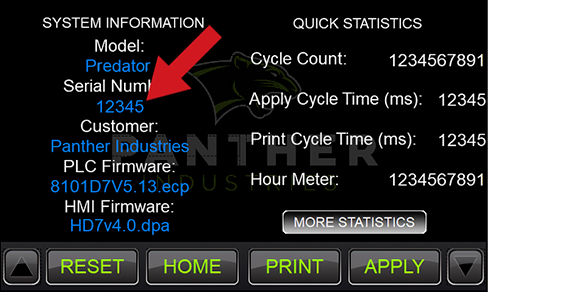 How to Find Your Serial Number
From the HOME screen, press the [ABOUT] button on the HMI interface:



Reference the system serial number as pointed out below:
How to Find Your Serial Number
From the HOME screen, press either the up or down arrows in the lower-left/right corners of the screen:




Reference the system serial number as pointed out below:
How to Find Your Serial Number
From the HOME screen, press either the up or down arrows in the lower-left/right corners of the screen:




Reference the system serial number as pointed out below:
How to Find Your Serial Number
From the HOME screen, press either the up or down arrows in the lower-left/right corners of the screen:




Reference the system serial number as pointed out below:
How to Find Your Serial Number
From the HOME screen, press either the up or down arrows in the lower-left/right corners of the screen:




Reference the system serial number as pointed out below:
How to Find Your Panther 2000 Serial Number
The serial number can be found on the MAIN screen, appearing as "S.N." directly below the "Panther 2000" line as indicated below. If your system is not displaying the MAIN screen, press the [F2] button to cycle through the various screens until it appears:

How to Find Your Panther CUB Serial Number
The serial number can be found on the HOME screen, appearing as "S.N." directly below the "Panther CUB" line as indicated below. If your system is not displaying the HOME screen, press the [F2] button to cycle through the various screens until it appears: